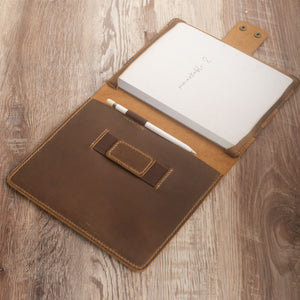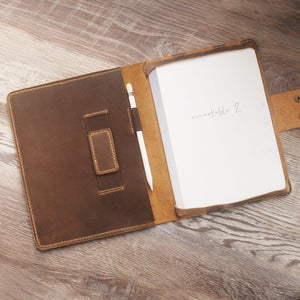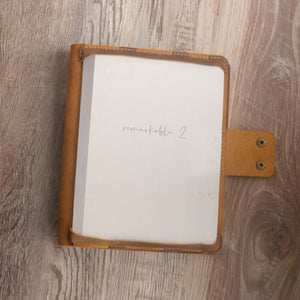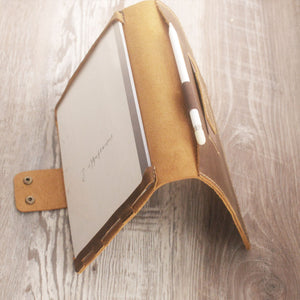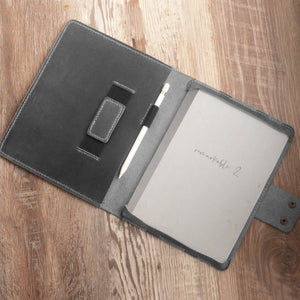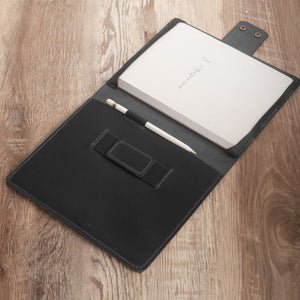 Personalized Leather reMarkable 2 Case, reMarkable 2 Tablet case, reMarkable 2 cover, reMarkable 2 folio with pen holder,RM001
---
Product
Personalized Leather reMarkable 2 Case, reMarkable 2 Tablet case, reMarkable 2 cover, reMarkable 2 folio with pen holder,RM001
Description
This is a Leather cover for reMarkable tablet, you could access your reMarkable and keep it secure without relying on a plastic case, This reMarkable 2 case also comes with a built-in leather strap for easy handle and 1 elastic pencil loop on the left pocket to hold your stylus.
This reMarkable 2 Case is made from top oiled leather and hand-stitched up by wax thread. No sewing machines or lasers; just hand tools, needles, and thread. It will be aged beautifully over time. It is sturdy, practical and stylish. If you want to engrave something ,please enter the engrave content when check out. Pls note we do not support engraving on tooled leather
Features
Material: Italy full grain oiled leather, will be aged beautifully over time.

Fit for reMarkable 2 tablet


An elastic leather handle added to help you hold the Tablet comfortable and easily

1 pocket at the left side

1 elastic pencil loop on the left pocket to hold your stylus
Best Case Ever
The perfect case for the reMarkable Tablet! Customization turned out great!!
Great Quality
Very pleased with this purchase. Quick delivery and great quality.
Love it!!!!
Ordered a reMarkable 2 but wanted a different looking cover. I love it. It's beautiful. And it has my name on it. So much better then the one reMarkable sells!!!!! Highly recommend.
Great Folio
This folio is my favorite. It has an old fashioned feel and is sturdy and well-designed. It keeps my Remarkable 2 safe and clean and is easy to hold (I appreciated the hand grip when I had to officiate my friend's wedding) and lay flat when I'm using it at my desk. I even appreciate the area for a folded piece of paper.
My only qualm is that some condensation from my drink drippes on the outside, and it took about a minute for me to get something to wipe it off... It took off some of the leather polish and left a bit of a mark, but again, with the old fashioned feel it's so not bad... Just looks more worn. I'm concerned about future water issues, but I'm also a lot more careful as a result of my experience.
Either way-- I highly recommend this.
It took a little while to get here but it was well worth the wait! The quality is superb, it looks great and is very thoughtfully made. The seller was very responsive and the customer service was excellent. I have no complaints. You cannot go wrong buying this product. Thank you!