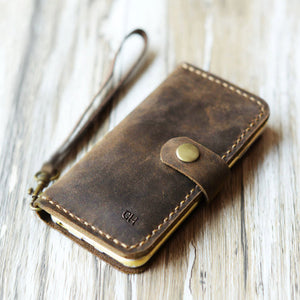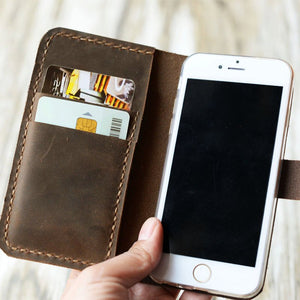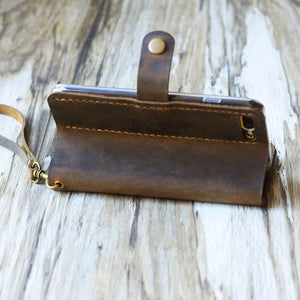 Leather iPhone Wristlet - Wallet Case - Distressed Brown - 408H
---
Our handmade Leather iPhone Wristlet - Wallet Case - Distressed Brown is made with distressed genuine tooled leather, hand-stitched up by wax thread. It will be aged beautifully over time. It is sturdy, practical and styled with our minimalistic charisma. Initials, quotes or logos can be engraved on the leather cover.

Features
Color: Distressed Brown

Anti-drop Wristlet Strap make you hold iPhone more convenient when taking picture or shopping.

A very thin and clear TPU case is sewed on the leather to protect and hold the phone, not glued like all the others you come across.
Snap-on button above the case to provide double safety.
Card slots will be a little tight at the begining but it will become fit after a period of use when the leather break in.
This iPhone Case is available for below iPhone Model:


iPhone 13 Pro Max, iPhone 13 Pro, iPhone 13, iPhone 13 Mini
iPhone 12 Pro Max, iPhone 12 Pro, iPhone 12, iPhone 12 Mini
iPhone 11 Pro Max, iPhone 11 Pro, iPhone 11
2020/2022 SE
Please contact us for other iPhone Model or custom size
Always good Quality!
I love the iPhone wallet cases from extra studio. Personal preferences are never a problem. I love to see Some other leathers in the future. But that's because I have had every one of them allready! Good products!
Perfect
Beautiful leather and stitching quality. Second one I bought and just as good as the first. Lasts forever, I got the second one for second phone, the first shows no signs of decline. They just start looking better and better.
I was expecting real leather smell and expected another "pocket " behind where the phone goes.