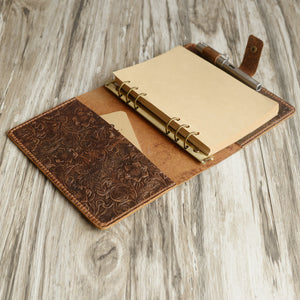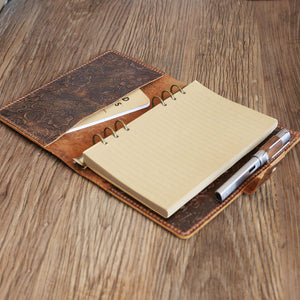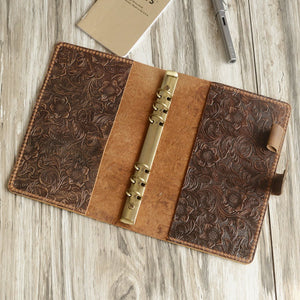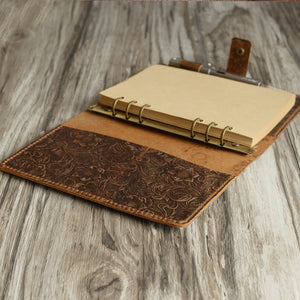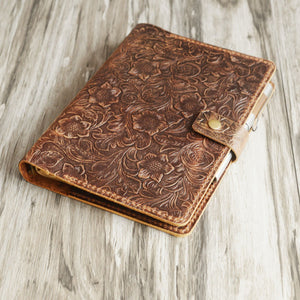 Distressed Tooled Leather 6 Ring Binder Leather Journals - Leather Folder - 707
---
Product
Distressed Tooled Leather 6 Ring Binder Leather Journals - Leather Folder
Specification
Materials: Top genuine top grade oiled leather
Color: Brown
Including one big pocket at both right and the left part as well as a pen loop at the right side.
It comes with insert paper ( 160 pages )
A5 - Cover size: 6.8x9 inches, Inner 6 Hole Refills size: 5.7x8.25 inches / 14.3x21 cm (A5 paper)
A6 - Cover size: 5.25x7.25 inch;  Inner 6 Hole Refills size: 4.2 X 6.7 inches / 10.5x17 cm (A6 paper)
Production Method: Handmade
Product Model: 707
*The Color and Texture of the leathers are all slightly different because these are all natural geniuine leathers without any artificial colors.
Refill Papers
It's suitable for standard A5 / A6 6-Holes papers. You can also buy more here.
Description
Our Handmade Distressed Tooled Leather 6 Ring Binder Leather Journals - Leather Folder is high quality genuine leather journal cover with insert papers, and can be refilled. There is one big pocket at both right and left part as well as a pen loop at the right side. It's made from Italy genuine top grade oiled leather, and will be aged beautifully over time.
It can be used as a Planner Binder, Travel Notebook Portfolio etc.
Love the item, hate the shipping
Item was great looking and seemingly well made!
Unfortunately the shipping took over a month and was beyond late for the holiday despite being ordered in plenty of time!