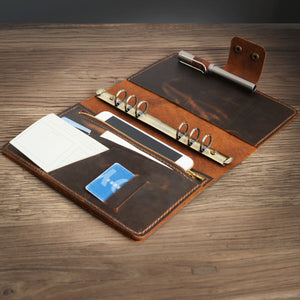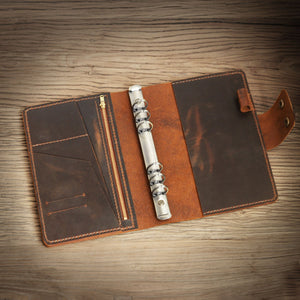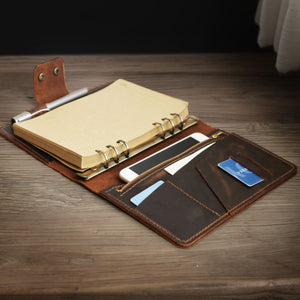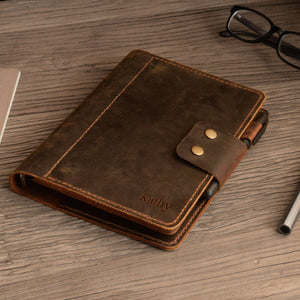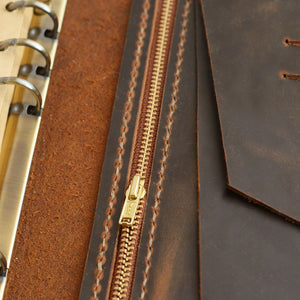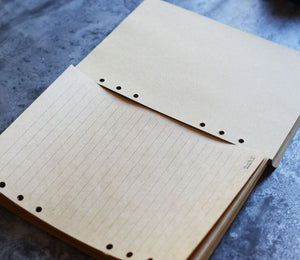 Distressed Leather Journal A5 Ring Binder Travel Organizer Notebook - 706
---
Product
Distressed Leather Journal A5 Ring Binder Travel Organizer Notebook
Specification
Materials: Top genuine top grade oiled leather
Color: Brown
Left side - Including one big zipper pocket for some notes and ticket, one card pocket for a few cards, one compartment to hold your boarding pass and one flap with 2 card slots
Right side - one big pocket and one pen loop.
It comes with insert paper ( 160 pages )
A5 - Cover size: 6.8x9 inches, Inner 6 Hole Refills size: 5.7x8.25 inches / 14.3x21 cm (A5 paper)
No A6 size available for this model
Production Method: Handmade
Product Model: 706
*The Color and Texture of the leathers are all slightly different because these are all natural geniuine leathers without any artificial colors.
Refill Papers
It's suitable for standard A5 6-Holes papers. You can also buy more here.
Description
Our Handmade Distressed Leather Journal A5 Ring Binder Travel Organizer Notebook is high quality genuine leather journal cover with insert papers, and can be refilled. In the left side, there are one big zipper pocket, one card pocket, one compartment and one flap with 2 card slots, while in the right side, there are one big pocket and a pen loop. It's made from Italy genuine top grade oiled leather, and will be aged beautifully over time.
It can be used as a Planner Binder, Travel Notebook, Sketchbook etc.
Nice Binder
Using my binder as a planner. At least the internet clan can't steal my data.
Nicely finished product
It's been about six months since I ordered a personalized ring binder travel organizer. A great product and beautifully finished. Very happy with the organizer. The order and delivery went smoothly. I can recommend this product to everyone. You will not regret it.
Classy and robust
Well taken care of for transport, Journal is perfect into details, really happy and would for 100% recommend to others !