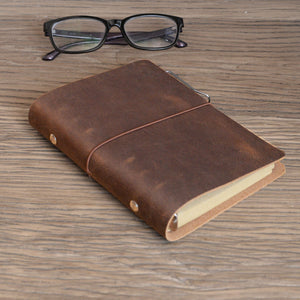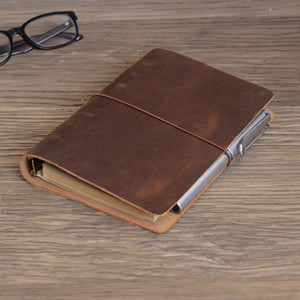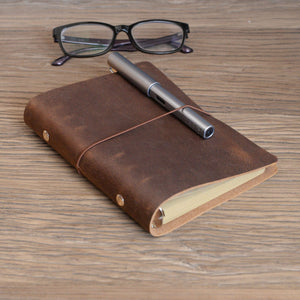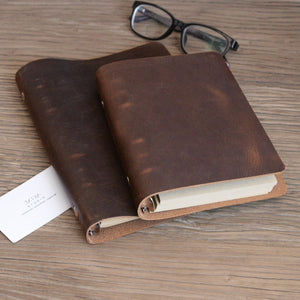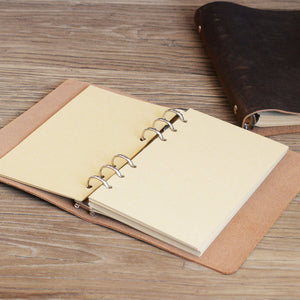 Leather Binder
Leather A6 6-Ring Binder Refillable Leather Journals - 702S
---
Product
Leather A6 6-Ring Binder Refillable Leather Journals
Specification
Materials:

Top grain cow leather with metal ring binder

Color: Brown
A5 - No A5 size for this model

A6 - Cover size: 5.25x7.25 inch;  Inner 6 Hole Refills size: 4.2 X 6.7 inches / 10.5x17 cm (A6 paper)
It comes with insert paper ( 160 page )
Production Method: Handmade
Product Model: 702S
*The Color and Texture of the leathers are all slightly different because these are all natural geniuine leathers without any artificial colors.
Refill Papers
It's suitable for standard A5 / A6 6-Holes papers. You can also buy more here.
Description
Our Handmade Leather A6 6-Ring Binder Refillable Leather Journals is high quality genuine leather journal cover with insert papers, and can be refilled. It's made from genuine top grade oiled leather, and will be aged beautifully over time.
This 6 ring binder is a simplified Leather Journal that is refillable, and it facilitate you to bring a pen with the leather journal. You can engrave your initials or company logos etc.

Looks great and a joy to use it
It looks really great and a joy to use it. The Leather feels good. The only thing I would hope that one day they will add an option for a pen holder.