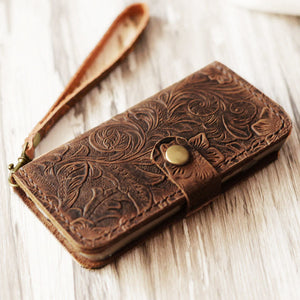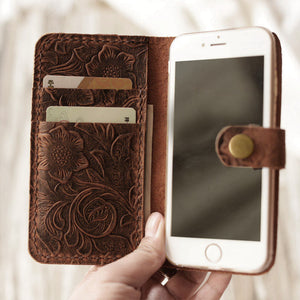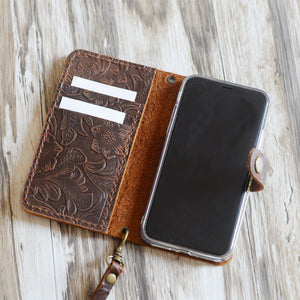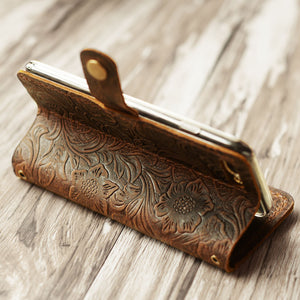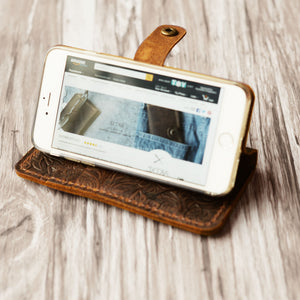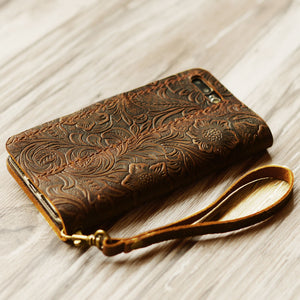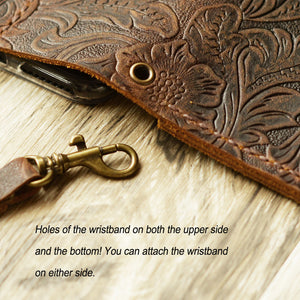 Our handmade Tooled Leather iPhone Wallet Case - Brown is made with distressed genuine tooled leather, hand-stitched up by wax thread. It will be aged beautifully over time. It is sturdy, practical and styled with our minimalistic charisma.

Features
Color: Brown
Anti-drop Wristlet Strap make you hold iPhone more convenient when taking picture or shopping.

Holes of the wristband on both the upper side and the bottom! You can attach the wristband on either side.
A very thin and clear TPU case is sewed on the leather to protect and hold the phone, not glued like all the others you come across.
Snap-on button above the case to provide double safety.
Card slots will be a little tight at the begining but it will become fit after a period of use when the leather break in.
This iPhone Case is available for below iPhone Model:


iPhone 14 Pro Max, iPhone 14 Pro, iPhone 14, iPhone 14 Plus
iPhone 13 Pro Max, iPhone 13 Pro, iPhone 13, iPhone 13 Mini
iPhone 12 Pro Max, iPhone 12 Pro, iPhone 12, iPhone 12 Mini
iPhone 11 Pro Max, iPhone 11 Pro, iPhone 11
2020/2022 SE
Please contact us for other iPhone Model or custom size
iPhone Leather Wallet case 408 H
Shipping took a while and it had to be shipped twice.
Love the product and communication was good.
I will shop here again.
Tooled Leather iPhone Wallet Case - Brown - 408H
Best case ever! Repeat customer
Honestly I used to crack my screen or break my phone every few months. Until I got this case!! The case is so protective, and the wristlet results in fewer falls.
The leather and craftsmanship is super high quality. I had one for my iPhone 8, then A new one for my XS. Just bought a 12, and there is no case available yet!! I will order as soon as it is available, and hope that my phone does not break in the meantime 😬
Return Customer!!
I purchased this case in 2018 for my iPhone 8. I have used it EVERY.SINGLE.DAY. I just bought the iPhone 12 and am wanting a case to fit the new phone. You will NOT regret this purchase. The craftsmanship and quality is amazing!!
Best case ever
I never want to buy anywhere else my iPhone walletcases..... made with love, precision and knowledge. Delivery perfect.. used it now for several years, and still looks great. My new phone will have a walletcase from Jiang Jiang, extraStudio